About Conference
Details of NEUROPAEDIATRICS 2020 conferences in Dublin, Ireland:
Conference Series LLC Ltd is pleased to invite you to participate in "5th Annual congress on Pediatric Neurology and Pediatric Surgery" to be held during August 19-20, 2020 at Dublin, Ireland.
Conference Series LLC Ltd organizes 1000+ Conferences every year across USA, Europe & Asia with support from 1000 more scientific Societies and Publishes 700+ Open Access Journals which contains over 50,000 eminent personalities, reputed scientists as editorial board members.
NEUROPAEDIATRICS 2020 highlighting the theme "
Gateway for Developmental Milestones in Pediatrics and Neurology
" provides an excellent opportunity to share views, exchange knowledge and establish research collaborations & sponsoring.
Neuropediatrics 2020
aims in proclaim knowledge and share new ideas amongst the professionals, industrialists and students from research areas of Pediatric Neurologists, Scientists, Researchers, Pediatric Nurses, Neonatologists, Pediatric doctors, educators, pharmacists, and other healthcare professionals to share their research experiences and indulge in interactive discussions and technical sessions at the event. The Conference will also have a space for companies and/or institutions to present their services, products, innovations and research results.
Why to attend
This event is dedicated to Pediatrics Neurology and Surgery and its advances with the augmentation of novel technologies. This event will bring to your oral and poster presentations, young research forum, and technical workshops along with Keynote talks from experts and panel discussions. Neuropediatrics 2020 offers a fantastic opportunity to make networks in the field of Pediatric Neurology and Pediatric Surgery, by providing collaborations. It allows delegates to have issues addressed on Pediatric Neurology and Pediatric Surgery by recognized global experts who are up to date with the latest developments in the fields and provide information on new techniques and technologies. We honestly believe that your subscription towards the conference will go a long way in encouraging your products, brands, and company.
Accepted abstracts will be published in Journal of Neonatal & Pediatric Medicine and provided with DOI.
Global networking: In transferring and exchanging Ideas.
A Unique Opportunity for Exhibitors, Collaborators and Sponsors at this International event.
Pediatric Surgeons
Pediatric Scientists
Pediatricians
Pediatric Researchers
Pediatric Faculty
Pediatric Nurses
Pediatric Physicians
Pharmacists
Medical Colleges
Data Management Companies
Training Institutes
Software Developing Companies
Business Entrepreneurs
Drug Manufacturing Companies
Pediatric Associations and Societies
Looking forward for this exciting innovation at "5th Annual congress on Pediatric Neurology and Pediatric Surgery" to be held during August 19-20, 2020, Dublin, Ireland.
Global Pediatricians Industry 2019 research report signifies the detail overview of current market State, Size, Share and forecast 2019-2024. The Market of
Pediatricians
2019-2024 report analyzes important features in key developing markets. The analysis consists market size, current trends, drivers, threats, opportunities, as well as key market segments. The
fetal and neurology care device
market is projected to grow from an estimated USD 6.4 billion in 2018 to USD 8.4 billion by 2023, at a CAGR of 5.7% during the upcoming period. Growth in the fetal and market is mainly driven by the rise in number of infants and low-weights birth infants, growing number of NICU admissions, and increased awareness of neonatal and fetal care across developing nations. The neonatal intensive care market is separate on the basis of product type including respiratory devices, infant warmers, convertible warmer & incubators, incubators,
phototherapy
equipment, neonatal monitoring devices, catheters, and others. Respiratory devices segment is leading and can continue its lead in the upcoming period.
Incubators
segment is assumed to be the largest contributor to the neonatal care devices/equipment market in 2018.The large share of the Incubators segment can be attributed to Development of novel neonatal incubators, rising incidence of neonatal hypothermia, and increasing number of NICU admissions. Hypothermia is common in infants born at hospitals (annual prevalence range 32% to 85%) and homes (annual prevalence range 11% to 92%), even in tropical environments (source: BMC Medicine 2013), and is among the reasons for neonatal mortality.
Neurology medical care
Market 2019 Report cowl elaborate competitive outlook as well as the market share and company profiles of the key participants operational within the world market. The infant medical care market report provides Associate in Nursing in-depth summary of Product Specification, technology, product sort and production analysis considering major factors like Revenue, Cost, Gross and Neonatal medical care units (NICU) area unit a mixture of advanced technology and trained health care professionals WHO give intensive medical attention to newborn babies admitted into the special division infant babies admitted to the NICU area unit premature, have low birth weight, or have a medical condition that needs special care. Newborn babies with medical conditions like heart issues, infections, or birth defects are cared for within the NICU. Rising awareness levels regarding offered
antepartum
and infant care instrumentation and high birth rate in developing regions of the globe propel the infant medical care market globally.
Whereas the price of health takes care of most youngsters is a comparatively low, person who need hospitalization or specialty care expertise an amazing increase in total value.in addition, with a spotlight on preventative drugs, a lot of resources got to be allotted to pediatrics. Medicaid funding for kids estimates concerning twenty p.c of total funds, nonetheless kids compose concerning sixty p.c of enrollees.
Typically, nursing homes and gerontology utilize the foremost Medicaid bucks except for a far smaller population whereas health care reform is associate current issue, the distinctive desires of kids got to be enclosed.
The global market for neuromarketing technology reached $21.0 million in 2015. The market is expected to reach $22.0 million by 2021 from $50.3 million in 2016, increasing at a compound annual growth rate (CAGR) of 18.0% from 2016 to 2021.The Asia-Pacific region has the fastest growing market for neurology monitoring devices. The developing economies like India and China are making large investments in healthcare and medical research, making advanced technologies like these more accessible and affordable. Countries such as Japan and South Korea have a high per capita income and more advanced technologies available, contributing to the fast-growing Asia-Pacific market. There is also an increased awareness among patients about the healthcare facilities available.
"Asia-Pacific Interventional Neurology/Neurovascular devices Market" research report, published by Market Data Forecast estimates that the market is growing with a CAGR of 9.98% to reach USD 549.16 million by 2021, from USD 341.29 million in 2016, which amounts to a cumulative growth of USD 207.87 million.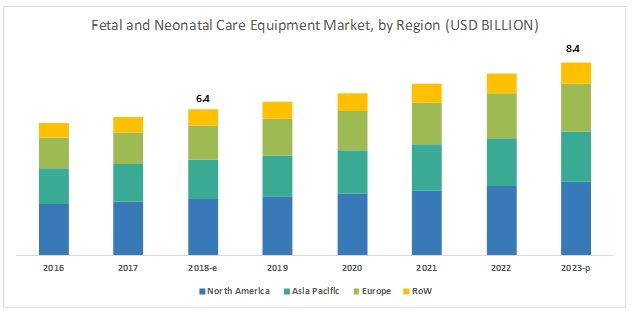 Electrical stimulation is proving to pacify the symptoms and restore function following a neurological disease or injury. Spinal cord stimulators are helping in restoring the neurological functions in the bladder, lungs, and limbs. Deep brain stimulations are being used for movement disorders such as Parkinson's disease, tremor, and dystonia. These devices provide electrical stimulation depending on the nature
Past conference report
Neuropaediatrics 2019 Report
Conference Series LLC Ltd organized the "4th World Congress on Pediatric Neurology and Pediatric Surgery ", during the month of August 12-13, 2019 at Auckland, New Zealand which was an unimaginable accomplishment. Conspicuous keynote speakers from different reputed foundations and associations tended to the social affair with their shining nearness. The regarded visitors, keynote speakers and specialists shared their inventive research and tremendous experience information and confabulated on different most recent and energizing advancements in every aspect of Pediatric Surgery look into at the platform of Neuropediatrics Conference 2019.
Active participation and copious reaction were gotten from the Organizing Committee Members of Conference Series and also from prestigious speakers, Pediatric Surgeons, Talented Researchers and Young Student Community. Specialists and understudies who gone to from various parts of the world has made the meeting a standout amongst the best and gainful occasions in 2019 from Conference Series The gathering was set apart with the nearness of eminent Surgeons, capable youthful scientists, understudies and business delegates driving the three days occasion into the way of achievement with interesting keynote, all-hands conferences and blurb introductions and furthermore video introductions.
Neuropaediatrics 2019 Organizing Committee extends its gratitude and congratulates the Honorable Moderators of the conference for their remarkable contribution towards delightful functioning of this esteemed event.
Conference Series extends its warm gratitude to all the Honorable Guests and Keynote Speakers of Neuropediatrics 2019.After the successful completion of Neuropaediatrics 2019 we are glad to announce our next upcoming conference which is going to be held in Dublin, Ireland
For more details visit:
"5th annual Congress on Pediatric Neurology and Pediatric Surgery" to be held in August 19-20, 2020 at Dublin, Ireland. We welcome all the eminent researchers, students and delegate participants to take part in this upcoming conference to witness invaluable scientific discussions and contribute to the future innovations in the field of Pediatric Neurology and Pediatric Surgery.
Mark your dates available for the upcoming Conference; we are hoping to see you soon!
Let us meet again @ Neuropaediatrics 2020
Conference Highlights